Ski Trip to Andorra, April 2020
Please find below a video from last year's ski trip, the presentation from our information evening and the letter for the ski trip in April 2020.
https://drive.google.com/file/d/1bITHuAl7Iix4QUrJV2k8evwYGuKKJo20/view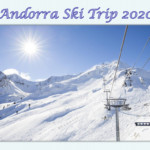 Berlin 2019
Please find below information on the up and coming Berlin trip 2019.  If you have not yet handed in a copy of your passport and EHIC, please do so.  Please also complete the google forms for medical and dietary requirements.
School Trips
At Oldfield we believe in encouraging wider experiences for all students and that learning experiences outside the classroom can be the most memorable moments in a child's school life. We offer a variety of school trips, and start in Year 7 with an activities day for each House with team building games and outdoor pursuits like archery and mountain biking. Other opportunities include a week in Barcelona for Year 7s, a Year 9 Battlefield trip, a school ski trip, a World Challenge trip to Morocco (involving hiking up the Atlas Mountains, camping and haggling in the souks!).
There are also many sporting tournaments played away though out the year. Individual subjects are always keen to run day trips; Cheddar Gorge, Dorset Coast, London and Bristol Theatre trips, Stratford on Avon Shakespeare experience and castle trips. It is thanks to committed members of staff who actively want to organise and run these trips that we are able to do so many.
'I really enjoyed the trip as we worked as a team and communicated with our new tutor group!'
Year 7 Student
"The Munich trip gave me an insight into what it was really like in Nazi Germany. The visit to Dachau Concentration Camp made me feel a sense of connection to the people who suffered. It was one thing to learn about them in the classroom and another to actually go to the places where it happened."
Year 11 Student
"The Year 9 Battlefields trip put the history into perspective. The massive scale of the war was clear from the size of the cemeteries and the scale of the damage we witnessed. The Last Post ceremony was a touching experience."
Year 9 Student